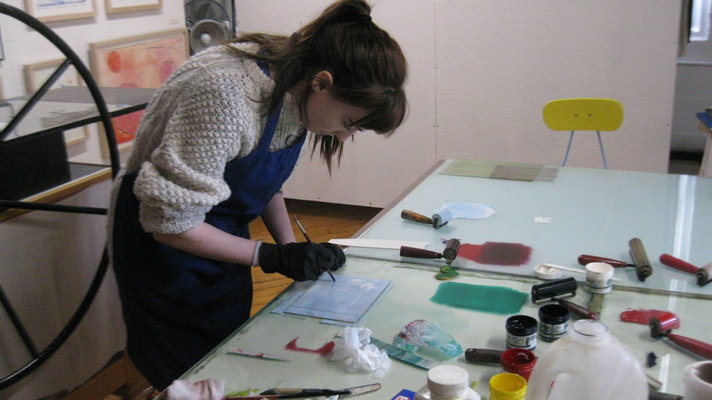 MONOTYPE AND GEL PLATE PRINTMAKING WORKSHOPS IN THE PIONEER VALLEY OF NEW ENGLAND'S WESTERN MASSACHUSETTS!! Come make prints with me in my super-clean studio, and outdoor studio in our backyard in Easthampton, MA. I follow CDC guidelines.
*PLEASE NOTE: I have had two vaccine shots, and a booster. ALL STUDENTS WHO TAKE MY WORKSHOPS MUST BE FULLY VACCINATED, BOOSTERED, AND WEAR FACEMASKS THROUGHOUT OUR WORKSHOP. Let's work together to keep our community and world healthy and safe!
MONOTYPE CLASSES ONLY - Saturday, December 18, 2021...this class is FULL..I'll announce January workshops soon... one day only, 10am - 3pm, $145 per class per person, no experience necessary, includes AKUA printmaking inks, seven sheets of archival Arnhem paper, and all materials ! We will work on 8" x 12" sheets of plexi-glas which will remain in the studio. We use my printing press, which is a blast! You may also bring your own paper if you like. Bring a sense of humor and get ready to play in the studio. Four students max, no experience necessary!! To sign up, please email me at: bridge.arts.1@gmail.com
GEL PLATE/MONOTYPE COMBO CLASS - DATES TO BE ANNOUNCED I hope to start these classes up soon, please stay tuned! $285 per person includes all materials. On Saturday, we will work on creating monotypes by painting on a piece of plexi glas, and then printing the image on my press. Then on Sunday, we will work with 8''x10'' Speedball Gel plates only. These plates are different than our plexi plates, and offer a depth of detail and dimensionality, which our other plates do not. Let's delight in creating texture and lines with this new technique! The two-day classes run 9.30 am - 2.30 pm on Saturday & Sunday.
These workshops take place at One Cottage St., #415, Easthampton, MA, in The Pioneer Valley of Western Massachusetts in the U.S.A. Please contact me at bridge.arts.1@gmail.com if you have any questions, and to reserve your spot. Thank you!
Have you ever wanted to make a monotype print? Monotype prints are one-of-a-kind prints, all unique! Imagine painting on a sheet of plastic, placing paper over it, then running it through my printing press. Voila, the image comes out on the paper in reverse to how you painted it. Come have fun and play with water-based AKUA inks, brushes, stencils, and different papers to create your one-of-a-kind prints using my printing press.
No experience necessary
with the printing process;
three students maximum per workshop
means personal and attentive attention from the teacher.
Email me at: bridge.arts.1@gmail.com

I learned monotype printmaking from the great Robert Blackburn in NYC, and worked with Mike Mazur in Cambridge, MA for years. I guarantee you will have a blast learning and playing with inks! For the monotype class, we will begin with introductions with students sharing goals for the class, following up with looking at examples of monotype prints, then finish the morning with a discussion regarding the printing process and technique on the press. We'll take a short break, then launch into printing in the afternoon until 2 pm. Clean up with warm soapy water is simple, because we use AKUA inks, which are totally water-soluble!
* All materials are included for $285 for the 2-day class, no experience necessary!
* If you have taken two or more classes with me, you pay only $225 for the two-day class, and your work hours in the studio will be 11am - 3pm.
* See prices below for one-day sessions, if you've taken a previous class with me.
* NEW INFO as of October 27, 2019: If you refer me to a friend, you'll receive $10 off your next working session! Also, if you decide you'd like to take another one-day class, you can print from 11.30am-3pm, and pay only $120 for the second day, receiving seven sheets of paper from me and inks, etc. Then, if you return anytime after that for a third or more print session, you pay $100 thereafter for one-day sessions for 11.30am - 3pm, and receive again seven sheets of paper from me each time (the papers might vary), and inks. As you print more, you need me less. Finally, for those really into printing, I have a spot where you can leave materials and stuff in a cubby on a private shelf, and you won't have to schlep things back and forth from home.
* Beginning May 3, 2019, if you are unable to make a class that you have paid for, I will return $85 to you ($60 will be retained as a processing fee). Re-scheduling a class is not possible, as I have many cancellations and it complicates my planning process. Thanks for your understanding.
These workshops take place at One Cottage St., #415, Easthampton, MA, in The Pioneer Valley of Western Massachusetts. Please contact me at bridge.arts.1@gmail.com if you have any questions, and to reserve your spot. Thank you!